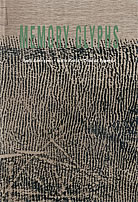 If you thought that Romanian only comes into the spotlight when they usher forth their teenage uber-gymnasts during every summer Olympics, well, you're missing some seriously innovative literature. Prose poetry is a slave to language and emotion and Twisted Spoon Press has collected three of Romania's best , all born in the 1960s. Some of you friends might think, "Prose poetry? Well, which is it – prose or poetry?" Consider it the spork of literature – two useful things in one. It means it doesn't read like traditional poetry, but it has all the attention to language and imagery. This may seem like a flippant comparison, but prose poetry confuses and scares some. And, I will admit, Memory Glyphs, by these Romanian poets can be arduous, a bit challenging. And if you're interested, check out the forerunners of this type of Symbolist poetry with some Baudelaire or Rimbaud on the French front or John Ashberry here in the ole US of A.


I feel that the first poet in this collection is the most accessible. Cristian Popescu writes with humor and sadness. There is a poignancy to his imagery that is evocative and provocative, sometimes inciting a big gust of brutality and sometimes conjuring a slight breeze of nostalgia. This wistfulness is rendered perfectly in Cornelia Street where Popescu compares the street he grew up on to the first girl he loved. In The Family Tree, he eulogizes the memories of his family, fictionalizing himself and his ancestors. And with beautiful results:

Let sweat wash down my face, stream down your body as though a toilet has been flushed. Two or three times a day, to keep you clean. But a poet's armpit should smell like the binding between book pages. I've infused the perfume of pressed flowers among the strands of my hair. Like our ancestor, the shepherd, now herding his flock of porcelain figurines through the grass, his porcelain dogs prancing across mountains and down valleys.
Popescu give us fantasy from the mundane. A childlike imagination warped by adulthood, like in this passage when he talks about himself as a young poet:

But most of the time he'd write and weep there, in solitude. From the continual outpouring of so many tears, just as some people develop kidney stones, he developed diamonds at the corners of his eyes. He'd weep and write. They had to install a miniature urinal to collect the precious stones.

And that's how much of Popescu's work goes, giving you what you probably already know and taking you where you've never been.
As long as we are going places we've never been, let's talk about Iustin Panta. He's less precise, less evident. But he's more jarring and abstract. I found myself trying to catch up with him or waiting for him to say something else. There's a certain melancholy that resonates throughout his poems, like in Empties and The Telephone. My favorite is the short but mighty, The Umbrella:

I had a hunch I'd find him at the far end of the waiting room, a book in is hand, an overstuffed bag resting at his feet–this reminds me of how once when she was lying on the grass, I showed up from behind her, and my shadow, preceding me, totally covered her: she thought it a cloud, she admitted a few moments later, and added she immediately remembered she'd left her umbrella at home. Only, she felt amused by the idea she'd soon be drenched to the skin. By chance she suddenly turned around then and saw me–no, she really wasn't disappointed, she tried to convince me, her eyes staring at the ground. We'd go to any lengths, even then, not to look each other in the eye…

There is the sense of Panta missing a her in several poems – the opening lines of Magda, "I was so happy then, I was fourteen, and at the end of my first time going out with Magda", in Parting, "the peace you offer me is the peace after the gunshot of a wild boar hunter, when the odor of gunpowder hasn't yet dissipated", and in When an Object Doesn't Change Appearance or Place, "You tell yourself that with the door's opening, her face she take on a more luminous, a more serene suggestion." And this could be only one woman or many, a city or a mother, an idea or an emotion. Panta is a poetic personal plea to the universality of humankind. His poems are elegant and ethereal.
And if you're thinking that the personal is a must for literature, you'll be sure to enjoy Radu Andriescu. Experimental and gritty, Andriescu shares emails and musings of his own organs at a butcher shop. Andriescu adheres to his own poetic concepts of syntax and form which don't always bring favorable results. But he has moments of searing images that redeem his reliance on descriptive language. In Ultima Thule, one of his strongest efforts, uses imagery and language beautifully with phrases like, "smoke ghosts", "The streets are flooded with asphalt", and "all these streets crowded with well-fed tomcats and scrawny, wretched dogs, with cardboard Poles and manic writers, with plumbers cloaked in a miasma of mercury vapors and rotgut, with starched paunchy senators,". Some of the poems connect, as in his series of emails to his friend Badge about a story Andriescu has written and then others seemed dropped in by mistake, like my favorite poem, My Vermont. My Vermont is a ode to what Andriescu views as paradise where there is no loneliness or death. He ends with a poem that is a series of images which is interesting in its sheer breadth, and for what it conjures up for each individual reader and the associations they may make between images. It is a flurry of language and imagery that is vivid and ranges from minutiae to the broad.
This work is translated by Adam Sorkin along with Radu Andriescu, Mircea Ivanescu and Bogdan Stefanescu. I loved Sorkin's preface and found it a quick study for what to read of Romanian poets as well as giving a context to the role of poetry in Romanian culture. I felt he did a fantastic job in translating all of these works and I am impressed. Friends, give yourself a jolt of atmospheric Romanian prose poetry today for the surprising places it will take you.
P.S.: Check out this great essay by Andriescu(pdf format) "Prose Poems in A Romanian Context" on Twisted Spoon's website about what is going on in Romanian poetry.
Memory Glyphs
By Radu Andriescu, Iustin Panta, Cristian Popescu
Translated by Adam Sorkin with Radu Andriescu, Mircea Ivanescu and Bogdan Stephanescu
Twisted Spoon Press
Paperback
163 pages
ISBN: 9788086264325
$15.00